Azadi ka Amrit Mahotsav
August 8, 2022 @ 10:30 am

-

11:30 am
A.P.C. Mahalaxmi college for Women, Thoothukudi
Department of Commerce ( Aided ) 
Azadi ka Amrit Mahotsav
Women Achievers and How they Overcame Hurdles
08.08.2022
Azadi Ka Amrit Mahotsav is an initiative of our Indian Government to celebrate 75 years of Independence, and to honour our Indian freedom fighters. The Department of Commerce (Aided) was given the responsibility of conducting Group Discussion to commemorate 75 years of independence. Group Discussion was conducted on the topic "Women Achievers & How the Overcame Hurdles" in the Seminar Hall from 10.30 a.m to 11.30 a.m with the aim of creating an awareness about women achievers, the challenges faced by them, efforts taken by them to overcome from their problems in order to achieve success and to be a role model for other women.
The programme started with the Prayer Song, Tamil Thai Vazhthu and Mahakavi Barathiyar's song "Paarukulle Nalla Naadu". Dr.K. Chitra Chellam, Head and Assistant Professor of Commerce welcomed the gathering and started the discussion by giving a brief introduction about Azadi Ka Amrit Mahotsav. Dr.V. Shyamala Susan, Head and Assistant Professor, P.G Department of Computer Science, Dr.R. Selvalatha, Assistant Professor, P.G. and Research Department of Tamil and Dr.E. Vasuki, Assistant Professor, P.G. and Research Department of Tamil were the moderators for the group discussion.  The following ten students from II B.Com and III B.Com participated in the group decision:
Shri Uma Maheswari II B.Com
Vasanthi II B.Com
Jeelani Unsath II B.Com
Mani Bharathi    II B.Com
Harini III B.Com
Ramya                               III B.Com
Pavithra III B.Com
Keerthana III B.Com
Malini III B.Com
Jagatheeshwari                             III B.Com
Miss.Ramya of III B.Com took a lead and initiated the group discussion. Harini spoke about Ms.Lakshmi Agarwal, an Indian acid attack survivor, a television host and a campaigner for the rights of acid attack victims by mentioning the awards won by her from the Indian Government, UNICEF and USA First Lady Michelle Obama. Malini gave information about Radhika Menon, the first Woman Naval Officer and who is well known for her rescue operation in 2015 by saving seven fishermen. Keerthana spoke about the achievents of our President Droupadi Murmu who hailed from Dalit community. Jeelani Unsath narrated the success achieved by the highest run-scorer in women's international cricket Ms.Mithali Dorai Raj who is also referred to as the GOAT of women's cricket. Sri Uma Maheswari, Pavithra and Jegatheeswari spoke about the achievements of popular Indian Women and how they won by overcoming the barriers. Vasanthi briefed the victories of Mary Kom, an Indian Boxer and the only woman to win the World Amateur Boxing Championships six times and a Member of Parliament, Rajya Sabha till 2022. Mani Bharathi gave a detailed information about the victories, hardships and faced by Mother Theresa, Former Chief Minister J. Jeyalalitha, Mary Kom, P.V. Sindhu and the unknown freedom fighter Kuily who belonged to Velu Nachiar's army during India's freedom movement.
The best performers of the group discussion were:
Mani Bharathi I Prize
Keerthana           II Prize
Pavithra III Prize
Dr.P. Bala Shanmuga Devi, Principal of the College graced the occasion by distributing prizes to the best performers of group discussion and gave a special address motivating the students to work as a good team with spirit and cooperation. Thirukural Books were distributed to prize winners. 51 II B.Com students attended the programme and gained knowledge about various women achievers, the struggles faced by them in career and personal life  and how they cherished the fruits of their hard work. The group discussion not only acted as a platform for students to share their knowledge but also provided an opportunity for other students to develop their knowledge and skills, especially, communication skills. The programme came to an end with the vote of thanks proposed by Dr.K. Sivagama Shunmuga Sundari, Assistant Professor of Commerce. The arrangements for the programme were made by Dr.A. Antony Selva Priya and Mrs. Maria Jency, Assistant Professors of Commerce.
Invitation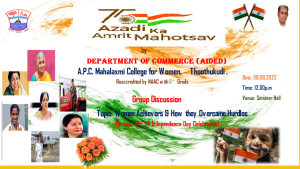 Glimpses of the Programme
Special Address by our Principal                               Instructions given by                                                  Group Discussion    
       Dr.P. Bala Shanmuga Devi                                        Dr.R. Selvalatha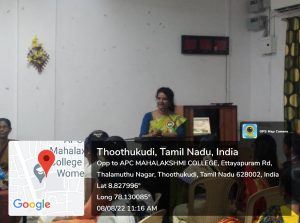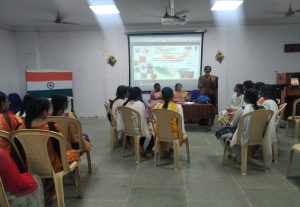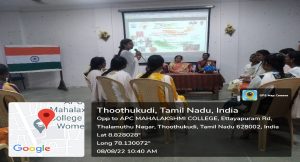 Prize Distribution
     Mani Baarathi II B.Com – I Prize                       S.Keerthana III B.Com – II Prize                                  M.Pavithra III B.Com